May 12
16
Hi there. It's me, Mophe.
It was a really nice day – high of 74 degrees and sunny so it seemed like everyone was outside. I started in downtown Columbus, Ohio at lunchtime so there were many people walking around. It's great to see the reactions the first time someone notices me. Some are hesitant to wave back. Some wave before I do. Some give you the head nod. Some give the thumbs up. Many people cruise along think of other things until I jolt them into a smile. I just love that feeling when people smile. I feel like it gives them that one fraction of time to forget about all their worries.
So, I'm unicycling along High Street and all of a sudden I hear, "Clown! Clown!" and this woman comes running up to me. She asks if I would go visit someone. As we're walking back down the street, I realized she had run after me for a block and half – wow! She slipped and told me the person she wanted me to visit is afraid of clowns so I didn't want to go. She tried to cover it up and said the person likes clown. I went along with the gag. We went to see Pia the owner of Europia on High street in Columbus. She was flabbergasted and asked, "Where did you find this clown." Pia ended up being a good sport about it and took some pictures (see below). Pia even got my name right! Carli was the name of the joker from Chase across High Street who put me up to it. It was all in good fun. Pia even acted like she was chasing me out of her store and down the street to the laughter of the folks at Europia and Chase. All in all we had a good time.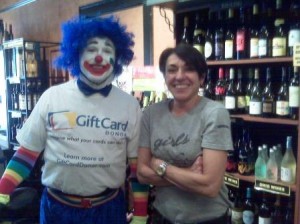 Mophe and Pia in Europia. I forgot how windy it was that day, riding up and down High Street. Just look at my hair all over the place. Looks like I need a cut.